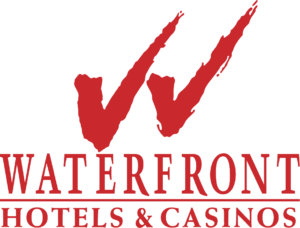 Source:
Annual Report 2016, Chairman's Message
This has been an exceedingly good year for the Waterfront group, marked by robust revenue across the board and extraordinary double-digit growth in key areas. Overall efficiency is better than ever, reflected in our stellar profitability, which has been bolstered by our ever-increasing proficiency in delivering cost savings across multiple decisive areas of our operations.
This synergism between astute revenue-generation and augmented efficiency in cost control has proven to be the ideal co-action responsible for driving our present success. Our ability to achieve greater revenue through aggressive efforts in creative marketing and savvy identification of important offline and online channels has boosted our consolidated figures, with Gross Revenue at PHP 2.14 billion this year, up 2% from the previous year's PHP 2.10 billion. Gross Operating Profit (GOP) is up 11% this year at PHP 772.97 million from last year's PHP 696.53 million. Net Income is at PHP 318.88 million, up a striking 101% from 2015's PHP 158.71 million.
Operating expenses are down by notable 3%, from PHP 1.4 billion in 2015 to PHP 1.36 billion. We have reduced overall payroll cost by 5%, from PHP 354.95 million in 2015 to PHP 336.52 million this year. Total energy cost has been reduced by 1%, from PHP 333.24 million to PHP 330.68 million, an improvement that not only reflects cost-efficiency but also a smaller environmental footprint. Waterfront, considering environmental protection drives as an important part of our Corporate Social Responsibility (CSR) program, has invested in new technology and equipment consistently in order to reduce dependence on inefficient, wasteful energy generation grids and improve energy costs and conservation. All of these efforts in trimming expenses in overall operations, Human resource and energy further contribute to greater company sustainability, indicative of consistent year-on-year "leaning up" of operations while not sacrificing, in fact, improving profitability.
Consolidated Room Revenue is up by 9%, from PHP 606.47 million in 2015 to PHP 662.12 million this year. Rental Revenue is at PHP 805.70 million. Consolidated F&B Revenue is up 2% at PHP 595.04 million from PHP 585.76 million last year. Occupancy, Revpar and ARR are all improved. Occupancy is up at 69% over last year's 66%, a positive variance of 3%. Revpar is up by 4%, from PHP 1,498 to PHP 1,554. ARR has jumped 4%, from PHP 2,270 to PHP 2,355. Waterfront Cebu City Hotel and Casino (WCCHC) posted an exceptional year with gains in nearly every aspect of hotel operations. Occupancy Rate increased by 2%, at 61% this year versus the previous year's 59%. Revpar is now at PHP 1,537, up 7% from 2015's PHP 1,434. ARR is up 4% from PHP 2,414 to PHP 2,508. Rooms Revenue has increased by 7%, from PHP 279.72 million in the previous year to PHP 300.67 million. F&B Income is steady at PHP 308.33 million. Rent and related income has improved by 12% at PHP 328.21 million versus 2015's PHP 293.99 million. Income from other operating departments is significantly up by 41%, from PHP 10.08 million the previous year to PHP 14.23 million this year. Gross Revenue for WCCHC has grown 7% from PHP 892.98 million to PHP 951.44 million.
Cost and expenses for WCCHC were reduced by 2% this year, from PHP 569.75 million to PHP 558.17 million. GOP is up by double digits at 22%, leaping from PHP 323.22 million in 2015 to PHP 393.27 million in 2016. NOP (after tax) is up by a monumental 145%, from PHP 64.32 million to PHP 157.62 million. Payroll cost has been significantly reduced by 12%, from PHP 133.99 million in 2015 to PHP 117.78 million. Energy cost for the hotel is at PHP 146 million. Acesite this year reports an Occupancy Rate of 56%. Revpar is at PHP 1,270 and ARR at PHP 2,274, reflecting an increase of 2% from the past year's PHP 2,232. Rooms Revenue for the hotel is at PHP151.60 million, up 2% from 2015's PHP 149.12 million. Rent and Related Income posted a level growth rate, although still reflecting an income increase of PHP 151,106 from PHP 332.57 million in 2015 to PHP 332.72 million this year. Food and Beverage is up by 0.7% this year, from PHP 101.57 million to PHP 102.25 million. Income from other operating departments is at PHP 2.66 million. Cost and expenses total PHP 373.17 million, reflecting a significant cost reduction of 8% from the previous year's PHP 404.81 million. GOP is at 216.07 million. NOP is PHP 70.47 million. The establishment has posted cost reduction in payroll, from PHP 131.55 million in 2015 to PHP 126.66 million in 2016, a variance of 4%. Energy cost has also dropped by 6%, saving the company PHP 6.40 million, from PHP 108.91 million in 2015 to PHP 102.51 million this year. Waterfront Insular Hotel Davao (WIHD) reports an increased Occupancy Rate of 70%, up 3% from the previous year's 67%. Revpar has grown by 8%, from PHP 1,362 to PHP 1,468. ARR is up 3% at PHP 2,104 this year versus PHP 2,035 in 2015. Rooms Revenue is up by 10%, from PHP 73.12 million in 2015 to PHP 80.43 million in 2016. F&B Revenue has a growth rate of 8%, increasing from PHP 98.04 million to PHP 105.64 million. Other operating departments' income grew by 2% from PHP 5.37 million to PHP 5.47 million. Gross Revenue for the property is up this year by 9%, from PHP 176.53 million to PHP 191.54 million. Cost and expenses for the hotel amounted to PHP 161.21 million. GOP is at PHP 30.33 million and NOP (after tax) is PHP 12.40 million. Payroll cost for the property is PHP 42.95 million and energy cost is PHP 27.03 million. WIHD continues to be a valuable property that represents the Waterfront group in a key city in Southern Philippines.
Waterfront Airport Hotel (WAH) boasts of positive across-the-board growth in 2016. Occupancy is at a record high, growing 12% from an already impressive 79% to 91% in 2016. Revpar has increased by 21% from PHP 1,902 to PHP 2,298. ARR is up by 6%, from PHP 2,399 to PHP 2,534. Rooms Revenue has grown by 24% from PHP 104.52 million to PHP 129.42 million. Rent and related Income is up by 3%, from PHP 141.15 million in the previous year to PHP 145.49 million this year. F&B Income also grows at 5%, from PHP 73.14 million to PHP 76.89 million. Other operating departments posted an aggregate income of PHP 11.38 million, up 21% from PHP 9.41 million last year. Cost and expenses at the property amount to PHP 197.25 million. GOP has risen a notable 23%, from PHP 134.62 million last year to PHP 165.92 million this year. NOP (after tax) is up by double digits too, rising 44% from PHP 60.95 million in 2015 to PHP 87.52 million this year. Payroll cost is at PHP 35.17 million. Energy cost has been significantly lowered by 24%, from PHP 60.22 million to PHP 45.97 million, an achievement considering the increase in occupancy.
We are proud of this property's performance, posting double-digit growth among most significant markers. We continue to expect great things from WAHC owing to its strategic position as a highly valued property right across a major gateway to the Philippines, the Mactan-Cebu International Airport (MCIA), currently undergoing aggressive expansion under international management. The ability of our organization to foresee developments and build right at the hubs of tourism and urban growth is our competitive edge. I congratulate our people for being ever so skilled at responding to opportunities, managing costs and maximizing profitability, for taking care of our guests and being excellent stewards of the Waterfront brand as it serves an expanding market.
Our present success gives us much reason to celebrate. I believe this is also the best time to pause and take stock of all our strategic efforts of the past years that have led to this level of efficiency and profitability overall for the group. All of this is proof that prudent management and strategic investments over the years, with eyes on the future, helped our company weather many challenges, maintaining its stability while positioning it to take advantage of future growth opportunities. One major breakthrough that has stood out in 2016 is our ability to manage costs across our properties. Overall costs and expenses for the entire group was reduced by 2.99% or PHP 41.99 million. From PHP 1.40 billion in 2015, costs dropped to PHP 1.36 billion in 2016. This stems from the establishment of various cost control mechanisms that, over the years, have become effectively embedded in our operations. The breakthroughs in overall cost reductions this year are due to efficient management among these categories: energy cost, cost of sales and manning cost.
In terms of energy cost, best practices and well-established habits add up to high energy efficiency, resulting in cost reduction. Energy cost for the entire group dropped this year by 1% or PHP 2.56 million–from PHP 333.24 million in 2015 to PHP 330.68 million in 2016. This is reflective of a larger and continuing downward trend in energy expenses year on year as a result of cumulative efforts and increased overall energy efficiency. For cost of sales, resources conservation, effective planning and resource management are all effective strategies in ensuring that this cost category is efficiently reduced.
In terms of manning cost, we have ongoing retirement programs that offer reasonable packages for voluntary early retirement. This has delivered tremendous cost savings among our various properties, as it has contributed to the streamlining of our workforce. We also encourage multitasking to a certain extent in various departments, eliminating redundancies and overstaffing, therefore building a team that is leaner and more effective. Personnel costs were reduced by 5% or PHP 18.43 million, from PHP 354.95 million in 2015 to PHP 336.52 million in 2016. Repairs and maintenance cost dropped by double digits, 36% or PHP 27.02 million, from PHP 75.63 million in 2015 to PHP 48.61 million in 2016. Consolidated rent cost was reduced by 28% or PHP 18.85 million, from PHP 66.78 million in 2015 to PHP 47.93 million in 2016. Rooms expenses dropped by 24% or PHP 11.91 million, from PHP 48.93 million in 2015 to PHP 37.02 million in 2016.
While Waterfront is driven to improve its cost efficiency dramatically, we make sure to never sacrifice our quality of service. To guarantee consistent service excellence, we are committed to constantly developing our workforce. Our people are our heart and soul, the software complementing our vast hardware. They are the main drivers of our business, giving life to our infrastructure. Peers' training and development for the group in 2016 remains active and robust. The group's total achieved Training Index of 129.15 hours per person exceeded the target of 90 hours per person by 44%.The group has supported the continuing development of its top-level executives through international professional certifications. Our partnership with the American Hotel and Lodging Association through its educational arm, American Hotel & Lodging Educational Institute (AHLEI), has been renewed. Through this partnership, twenty peers from all our properties were enrolled in its self-paced Professional Certification Designations. This program enables our people to be part of an elite group of hospitality professionals who combine education and experience to achieve a high level of expertise. Managers and Section Heads underwent AHLEI's Certified Guest Service Professional program certification.
Our Peers in the Engineering Division have undergone national-level training programs that qualified them to be Pollution Control Officers and Managing Environmental Heads for our properties. WCCHC strengthened its engineering team by sponsoring two of its peers to the Expanded Tertiary Education Equivalency and Accreditation Program (ETEEAP) of the Commission on Higher Education. Even more resources were put into reorientation on our newly-upgraded Engineering Maintenance System and further screening and hiring of new engineering professionals. Our peers went through sessions on Severe Disaster Preparedness and Risk Awareness, a program designed to further strengthen our organization when it comes to dealing with emergencies. The Department Heads and Managers across all our properties were sent to several conventions at international, national and regional levels to keep them informed of the trends, requisites, innovations and optimization issues in our industry. Among these were Lean Six Sigma Green Belt Certification, The Power of X: Digital Multiplied by the Internet and Mobile Marketing Association of the Philippines, Japanese Language Program by Speedtalk, Peso Security Features by the Bangko Sentral ng Pilipinas, plus many more. MPH clocked the highest training index of 139.76 hours. WAHC was a close second with 134.63 hours, followed by WCCHC with 123.88 hours and WIHD with 118.33 training hours per person for 2016.
As we continue to grow both our offline and online distribution channels, we are seeing significant returns on our decisions to innovate. Our online channels have yielded impressive figures this year. For WCCH, online contribution percentage rose from 40% to 44%, a 10% growth rate. The property generated PHP 307.06 million Total Rooms Revenue in 2016, of which Online Segment Revenue contributed PHP 133.80 million. By comparison, online contribution in 2015 was PHP 113.24 million out of Total Rooms Revenue of PHP 285.78 million. The annual growth rate for Online Segment Revenue (from PHP 113.24 million to PHP 133.80 million) is in double digits at 18%. WAHC has demonstrated high growth in this area too, with online contribution percentage rising from 46% to 49% of Total Rooms Revenue. In 2015, Online Segment Revenue was PHP 48.41 million out of Total Rooms Revenue of PHP 105.01 million. In 2016, Online Segment Revenue was PHP 63.41 million of the Total Rooms Revenue of PHP 130.25 million. Growth for Online Segment Revenue is at 31%, while the growth rate for percentage of online contribution for this property is at 6%. WIHD posts its 2016 Online Segment Revenue at PHP 18.54 million out of PHP 81.16 million Total Rooms Revenue, a percentage contribution of 23%. The past year's Online Segment Revenue was at PHP 12.31 million out of Total Rooms Revenue of PHP 73.87 million, a percentage contribution of 17%. Growth rate for Online Segment Revenue is at 51%, while percentage online contribution rose by 37%.
MPH delivered an Online Segment Revenue of PHP 53.19 million in 2016, out of a Total Rooms Revenue of PHP 151.61 million, a percentage contribution of 35%. By comparison, 2015 yielded PHP 44.93 million online contribution out of PHP 149.22 million Total Rooms Revenue, a percentage contribution of 30%. Growth rate for MPH Online Segment Revenue is 18%, while the percentage of online contribution grew by 17%.Our Central Reservations Office (CRO) continues to be a valuable channel for our reservations, with the number of calls received still growing from 79,229 in 2015 to 88,159 in 2016, reflecting a growth rate of 11%. The number of dropped calls have been significantly reduced, a positive indication of our follow-through efficiency and quality of service. Dropped calls have been slashed from 6% in 2015 to 4% in 2016, a reduction of 2%. Percentage of online-based inquiries to the CRO has increased, from 2% in 2015 to 6% in 2016, a triple-digit hike of 200%. For our Central Reservations System, we continue to use Compass Edge as our booking engine under its own website for WCCHC, WAHC and WIHD; for MPH we are working with DirectWithHotels as our engine.
We are also contracting Compass Edge to develop our China market online through a Chinese Website powered by the same company. In January of 2016, we contracted Compass Edge to create a web page in simplified Chinese published in the hotel's subdomain, www.waterfrontcebucityhotel.com.cn. The page went live in May 2016. The site's SEO was facilitated through Baidu, where it was submitted for indexing. Features include mobile-friendliness and mobile-responsiveness, and linkage to social media via Weibo, one of China's top social media platforms. We are optimistic that through these new methods of customer engagement, we can gain more access to the Chinese market, talking directly to our customers and reaching them where they spend most of their time.The Waterfront application is delivering outstanding results this year as customers move to it as one of their favorite touch points. For WCCHC, the app's growth rate for production in room nights, ARR and revenue all increased by 502%, 31% and 689% respectively. WAH has seen 154% increase in room nights via the app, and a 125% increase in app-generated revenue. MPH posted even bigger figures as app-generated room nights experienced a 3500% increase, ARR a growth rate of 90% and revenue spike of 6750%.
Other online channels continue to be frontiers for growth as online travel agencies (OTAs) contribute mostly double-digit growth. For WCCHC, OTA contribution to room nights grew by 16%, ARR by 6% and revenue by 23%. WAHC's OTA-generated Room nights grew by 14%, ARR by 8% and revenue by 23%. WIHD also experienced growth in OTA-generated revenue. Room nights grew by 42%, ARR by 9% and revenue by 55%. MPH sees a 19% growth rate in OTA-generated room nights and 19% growth in revenue. Overall, OTA contributions are robust and retain an important component of our total revenue.
Consistent with our practice of supporting future growth trajectories, Waterfront prides itself in continually striving to provide value to its customers. On top of all the successes of the year, 2016 is also pivotal in that management has come to a decision to embark on new projects to reinvigorate the Waterfront brand. We have engaged master planners to look into the site potentials of the hotels as they are located in three major cities across the country. As these properties sit on vast areas of land, the master planners have been tasked to evaluate our properties and derive the true potential of our assets, with the goal of increasing overall real estate value. These master planners are both local and international in prestige, such as AECOM, Casas and Recio Architects. These international and world-class teams unlock value by determining best use capacity through careful professional studies of each property's sites.We are looking to diversify revenue streams and exploit the opportunities afforded by these properties, being strategically built close to airports and key business areas. These prime locations have a massive potential that has yet to be further unlocked through best use. We open up new revenue streams by complementing, enhancing and improving on our core business which is hospitality.
Through this next bold step, the brand moves forward into the future. We look to deliver even greater value as part of our unwavering commitment to our shareholders. We are contemplating a change that sparks our revenue potential, exploiting unexplored channels, expanding our revenue stream and safeguards our position through constant innovation. Without a doubt, even as we experience double-digit growth, the Waterfront brand is being rein¬vented as we speak. I must congratulate our entire organization for making this a truly prosperous year. Without the steadfast and trustworthy support of our partners, shareholders, peers and patrons, our company would not be where it is today. I am confident that the wisdom we have gained in building our current profitability serves as a platform for a new era for the company. Our business minds are having to do a form of time travel: constantly laying the foundation for our future triumphs while we graciously celebrate our present ones.
Renato B. Magadia
Waterfront Philippines, Inc.